KRISTINA ABRIL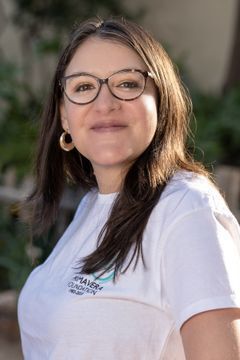 Operations and Evaluation Administrator
Kristina Abril is a lifelong Tucson resident who adores the desert, its wildlife and the vibrant community here.
Kristina's professional interests lie in fostering effective communication and facilitating community engagement through evaluations and surveys. Kristina strives to gather meaningful insights that can drive positive change and enhance the overall value of community programs and initiatives. With a diverse background in healthcare, leadership and visual design, Kristina oversees the day-to-day operations of the administrative team, managing tasks such as scheduling, front-end care for callers and visitors, and supporting staff.
In addition to her professional work, Kristina has provided voluntary service as a hospice caregiver and emotional support to individuals and families in need. She deeply appreciates the significance of delivering empathetic, compassionate care to the community and is committed to ensuring exceptional service for all clients and participants of Primavera.