PROJECT REINVEST: NEIGHBORHOODS
The Primavera Foundation received a competitive $500,000 grant to build upon its successful, multisector neighborhood revitalization strategies in partnership with the City of South Tucson, which is emerging from disinvestment and the long-term impacts of the foreclosure crisis.
As one of the 55 grantees out of 240 applicants across the U.S., Primavera was declared the only nonprofit in Arizona to receive the Project Reinvest: Neighborhoods award.
Sixty percent of the grant funding will be spent on physical improvements in the community, supporting Primavera's commitment to revitalization.
The CEO of Primavera, Peggy Hutchison, is thrilled about the positive impact this grant will have on the community.
"We will continue this investment in the vibrant neighborhoods of South Tucson in order to provide equitable opportunities for all residents and local businesses to thrive," said Hutchison.
The overall strategy is focused on enhancing the quality of life through capacity building; real estate development designed to transform distressed lots attracting crime; improving homeownership rates; developing attractive, affordable housing; developing resident-inspired community gardens and neighborhood parks; and engaging the residents, business people, and overall community, to inspire and empower South Tucson.
Project Reinvest: Neighborhoods will support critical new projects [as shown below].
In addition, Project Reinvest: Neighborhoods funds will support the initiatives of Healthy South Tucson, a multisector coalition whose mission is to build capacity and engage the community with projects like community events, community planning, and public safety strategies.
Healthy South Tucson members include representatives from the public sector, residents, nonprofit organizations, The University of Arizona (multiple schools and departments), Arizona State University, small businesses, and faith-based groups.
Primavera began its neighborhood revitalization initiative in the City of South Tucson in 2007 at the invitation of the City and Pima County. Since then, Primavera has rehabbed, redeveloped, and developed 42 single-family homes; a 12-unit, multifamily rental housing community named Las Abuelitas with a community center; and two community gardens.
---
New Homes for Sale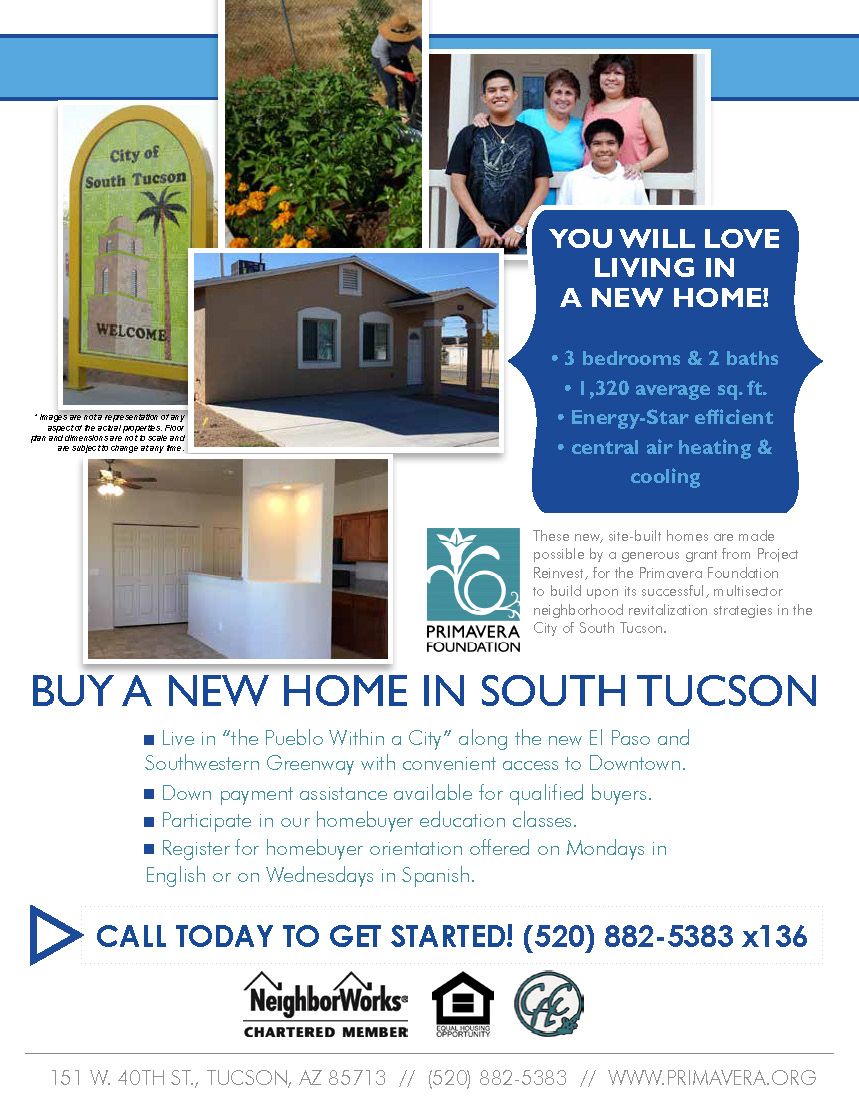 Project Reinvest: Neighborhoods supports four new, single-family homes for first-time homebuyers on formerly distressed lots.
These new, site-built homes with a local developer, Carerra Custom Homes, build upon Primavera's successful, multi-sector neighborhood revitalization strategies in the City of South Tucson.
To learn about our Affordable Homeownership Opportunities, contact us at (520) 882-5383 x136 or education@primavera.org.
---
Pride in Place Park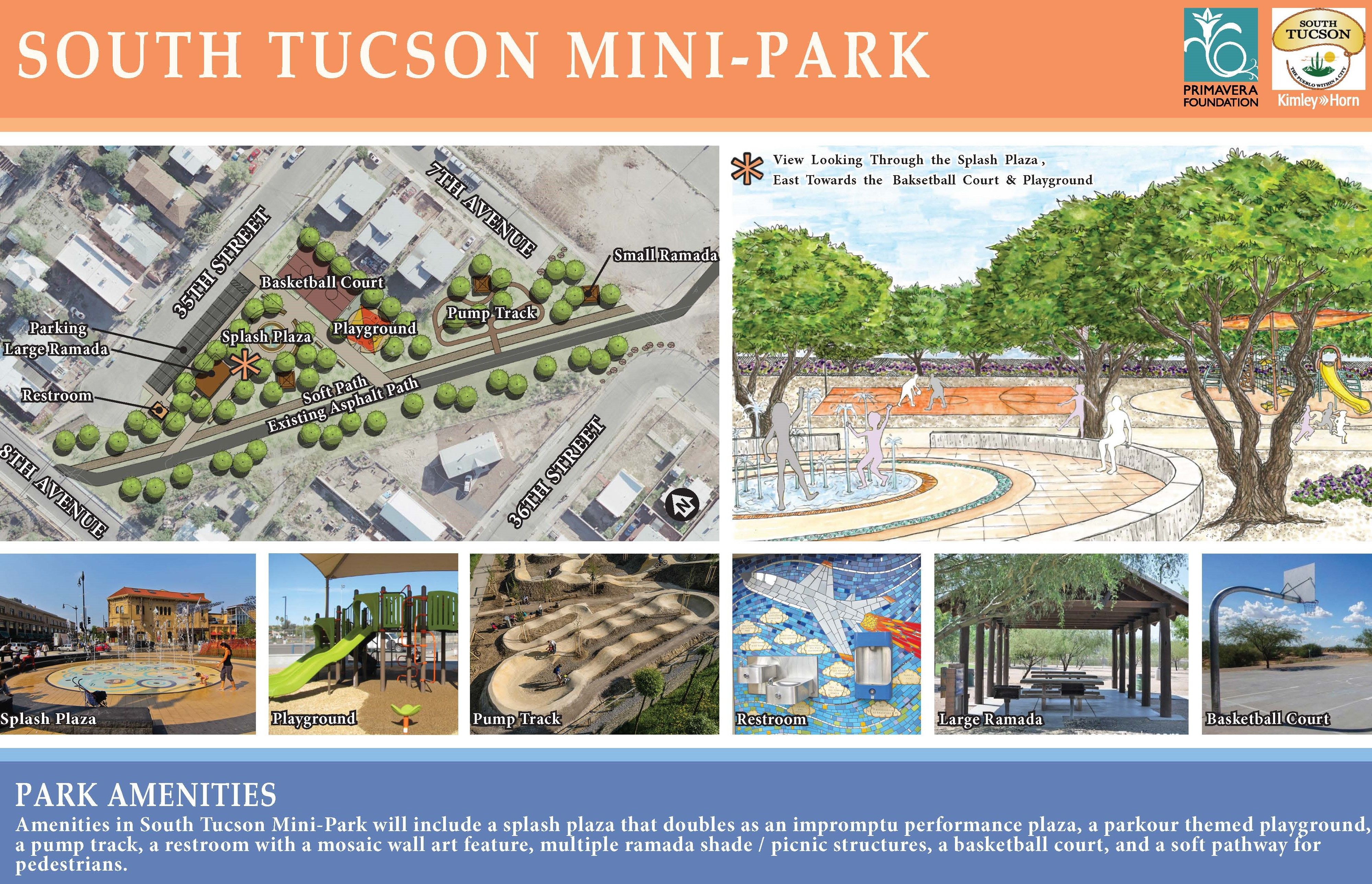 Project Reinvest: Neighborhoods supports a resident-informed design for a public park that will be a resting stop with public art along the El Paso and Southwestern Greenway.
Currently, the City of South Tucson has no public green space. The Greenway is under construction, and Pima County is purchasing a small piece of land adjacent to the Greenway that will be turned into a public "Pride in Place Park" along the six-mile long divided urban pathway which is designed to be safe and accessible for bicyclists, walkers and joggers. Primavera hired a landscaping architect and we're in the process of completing a community-led design for the park.
---
Community Engagement Events
Children's Winter Shoe & Jacket Drive - In December 2017, 75 children from Ochoa Elementary, Mission View Elementary, and Primavera's Las Abuelitas After School Program received new winter jackets, shoes, socks, books, and a meal from McDonald's. This annual event is a partnership between the Healthy South Tucson coalition, and the City of South Tucson Police and Fire Departments.
 
"Stash the Trash" Community Clean-Up - In the fall of 2017, South Tucson youth, including children from Primavera's Las Abuelitas After School Program, worked with local artists to paint trash cans to be placed in the City of South Tucson. In February 2018, the trash cans were unveiled at a community arts and cultural celebration, then volunteers picked up trash along 6th Avenue. The project was the result of a collaboration between multiple organizations and led by the South Tucson Youth Leadership Council.
---
Community Art Murals
Project Reinvest: Neighborhoods supports a public art mural designed and created by local artists and South Tucson students from the Las Artes Arts and Education Center in the La Capilla neighborhood near the El Paso and Southwestern Greenway, celebrating and honoring the multicultural roots and presence in South Tucson.
The Director of Las Artes, Arnold Palacios, said his staff and students are excited about the partnership with Primavera.
"This collaboration gives our students the opportunity to contribute to South Tucson through the creation of mosaic art that reflects the culture and history of our community," said Palacios. "It will highlight the enormous pride we take in our cultural heritage. An added bonus is the workplace skills that students will achieve in collaborating, cooperating, and creating art for the community."
The overarching theme of the mural is, "Water is Life," as it celebrates the multi-ethnic and multi-cultural history, telling the story of the Tohono O'odham, Pascua Yaqui, Mexican, and Chicano contributions to the area. Once completed, the art piece will be visible from the Greenway, which connects to the 13-mile loop of multi-use paths around the City of Tucson.
"Water is Life" - On the Back Wall of La Capilla Community Garden
---
Special thanks to the residents and friends of La Capilla Neighborhood, Las Artes Arts and Education Center, Creatista, Las Comadritas, YWCA of Southern Arizona's House of Neighborly Service, The City of South Tucson, Pima County, Pride in Place, Project Reinvest: Neighborhoods, and NeighborWorks America.
To watch more Project Reinvest videos, visit our YouTube Channel.