LAS ABUELITAS FAMILY HOUSING & COMMUNITY CENTER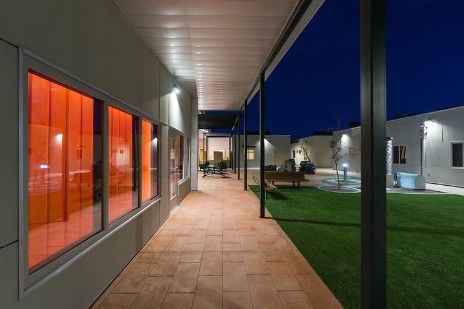 Meeting Community Need
Las Abuelitas was designed in collaboration with a delegation of grandparents and great‐grandparents raising grandchildren/great grandchildren through foster care or adoption who met with Primavera to explain their need for accessible, affordable housing in a secure community setting.
"At Primavera, part of our DNA is really trying to listen to and be responsive and engaged with the community," said Peggy Hutchison, Primavear's CEO. "Over our history since 1983, programs have been developed because folks in the community have presented us with a challenge that connects with our mission."
Primavera began to research the need for this type of housing in Pima County as well as models of kinship family housing across the country. While there were very few models that exist, it was clear that the need was growing throughout the United States as well as locally. The seeds were planted and Primavera began to search for funding and land and to develop a plan of action to bring this vision to fruition.
Las Abuelitas is a 12-unit development which includes a community center with a multi‐purpose room, computer lab, playroom/library, kitchen, office, and children's art display area. Shared outdoor space includes a playground, a "Common Green" sitting area, and a community garden and basketball play area accessible to the neighborhood.
---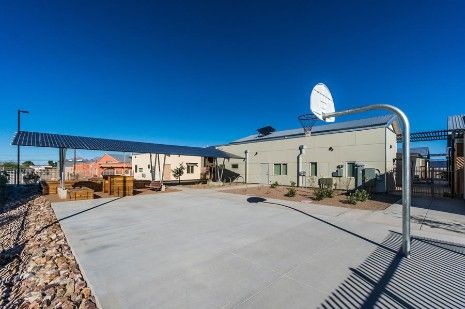 Community Benefits
Primavera's real estate development projects are guided by the following two principles: community constituents must be involved in the vision and design of the project; and housing development must provide value to the larger neighborhood and community. Las Abuelitas Family Housing and Community Center is benefiting the community in so many ways:
Several blighted lots have been replaced with a beautiful infill housing community, a community garden, fruit trees, and play area open to the greater neighborhood. 
80% of low and very low income renter households in Pima County are cost burdened renters, paying more than 30% of their income on rent because of the shortage of affordable rental housing.
12 high quality, safe, accessible, energy efficient rental units are providing rental housing for low income (80% or under the Area Median Income) working families who were previously cost burdened with their rent.
While this project was designed by and for kinship families, the only requirement to lease the units is income eligibility. Because of the sustainable design concepts that were implemented, electricity and water fees are lower for residents, and quality public and private spaces and activities promote the health, happiness, and well‐being of the residents and the greater community.
The Community Center is Net Zero thereby saving energy and costs for community programs that are run there that include: programming for grandparents raising grandchildren; leadership development training for civic engagement; income tax assistance; demonstration cooking classes; and post‐homeownership classes for the community focused on: recycling, energy efficiency, crime prevention, home repairs, retirement planning, investing, etc.
The Community Garden and basketball play area serves both the residents in the units and the surrounding neighborhood. 
---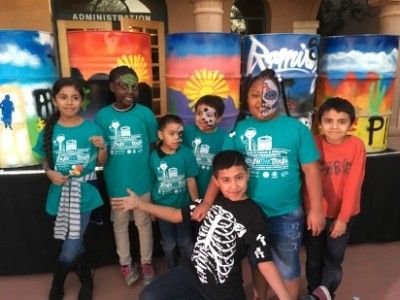 Local & National Community Support
Las Abuelitas was made possible through key partnerships with the advocacy of Arizona Grandparent Ambassadors; land donated by Pima County with the support from the leadership of the City of South Tucson; financial support from NeighborWorks® America; the US Department of Housing and Urban Development (HUD) Neighborhood Stabilization II and HOME programs in partnership with Pima County, the Federal Home Loan Bank of San Francisco, NeighborWorks® Capital, and generous Primavera donors; architectural design by Poster Frost Mirto, Inc.; and construction by Lloyd Construction Company, Inc.
---
Green Aspects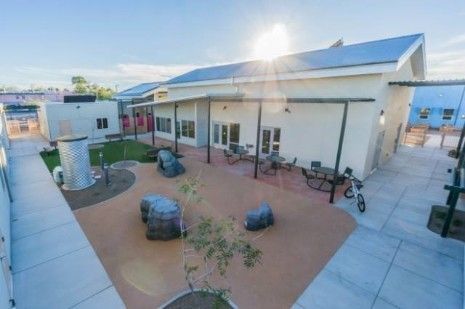 "We really wanted to have the focus be green, energy-efficient, long-term sustainability," said Peggy Hutchison, Primavera's CEO, "We understood that would be a big investment on the front end, but that it would have a lasting impact both for the residents and for Primavera." 
Recognized for its progressive design and environmentally sound construction, Las Abuelitas has received numerous awards and certifications for its green/sustainability features which include:
Metal shade structures that cover south‐facing windows, as well as patios and shared walkways, are abundant on the site. This shade reduces the amount of solar energy which falls on the buildings and site paving in the summer, keeping both cooler.
Insulation values in every wall type and roof system for this project meet high standards.
A closed‐loop glycol solar hot water system is incorporated into every unit, and it is anticipated that water heating for the residents should be cost‐free for the majority of the year.
An advanced rainwater harvesting system collects water from 100% of the roofed area for this project. This water is collected in a series of interlinked cisterns which are tied to the irrigation system and provide water for the entire site.
A photovoltaic system is incorporated on the roofs of some units, and at shade canopies that cover the parking area and a portion of the play area. Each unit is individually tied into its own series of panels that offset the on‐grid demand as well as reduce utility costs for the residents. The project makes the most of the PV harvested energy.
All windows, appliances, and light fixtures in the project are Energy‐Star rated, and the mechanical systems for the units are highly energy efficient.
---
Awards & Recognition
Since its development, Las Abuelitas has been recognized for being a state-of-the-art community space:
2017 - Featured at the Cooper Hewitt Smithsonian Design Museum exhibit in New York City entitled, "By the People: Designing a Better America" in January and February.
2014 - Mickelsen Housing Hero Award for Exemplary Urban Multifamily Development by Arizona Department of Housing
2014 - Excellence Award for Affordable Housing Program by the National Association of County Community Economic Development
2014 - Residential Energy Efficiency Award for New Construction by the State and Local Energy Report
2014 - Recognized as "a fantastic example of a healthy communities project" by the Arizona Partnership for Healthy Communities
2014 - Bright Energy Efficiency Award by Tucson Electric Power
2014 - Heavy Medals Award by the US Green Building Council's Arizona Chapter
2014 - Platinum Certification by the US Green Building Council's Leadership in Energy and Environmental Design
2014 - (The First) Net Zero Energy Building Certification by Pima County, Arizona