COMMUNITY BUILDING & ENGAGEMENT
Primavera's commitment to social and economic justice in the context of vibrant and revitalized neighborhoods has challenged the organization to integrate its neighborhood revitalization and community engagement activities. The strategy is to integrate community development and community engagement by strengthening resident leadership development and organizing across sectors with multiple community partners in targeted neighborhoods.
Visit our Events Calendar to find out about upcoming community events.
To learn more about our community building and engagement initiatives, contact us at (520) 623-5111 or community@primavera.org.
---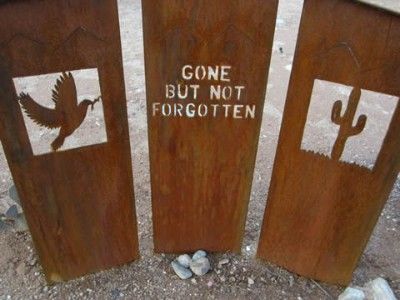 Annual Homeless Memorial
Every year, we join the national movement to remember our neighbors, friends, and family who have passed away while facing homelessness in the past year.
At our annual homeless memorial in December, we share memories of those who passed, speak about social injustice, share blessings, and reaffirm our commitment to continue fighting to end homelessness.
"True compassion means not only feeling another's pain but also being moved to relieve it." ~Daniel Goleman
View "WE REMEMBER," a list of those we've lost each year.
---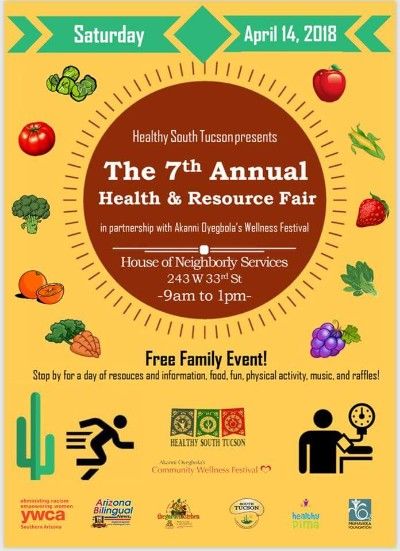 Healthy South Tucson
Primavera is partners with a strong, diverse multi-sector collaboration called Healthy South Tucson whose purpose is to enhance the quality of life within the South Tucson community, and whose mission is to build capacity and engage the community to inspire and empower South Tucson.
Diverse members from the public sector, residents, non-profits, The University of Arizona, small businesses, and faith-based groups work together to create a long-term community development partnership and strategy. Since 2013, Healthy South Tucson has organized community health and resource fairs, metropolitan-wide cyclovia, community night-out events, public safety strategies ("Stop It Coalition"), active resident-driven neighborhood block groups, and back-to-school events, among others. We are determined to ensure that the community is informed and ensured that local small businesses, residents, and the local multi-cultural pride are not lost and that multi-generational residents and new residents are not displaced in the process of new developments in South Tucson.
Healthy South Tucson has also provided tours of the community to external stakeholders and interested parties. The results have included powerful discussions about bias related to race, ethnicity, and class; the image-building has enabled the coalition to attract additional investment; and changing attitudes internally and externally about the community among residents, business people, and the public sector.
---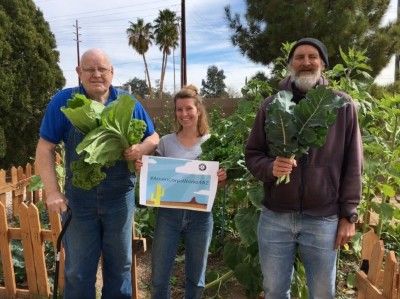 Community Gardens
Community gardens play an important role at our properties. Primavera provides leadership to several resident and community gardens about using desert-friendly landscaping, harvesting water, and planting native and desert-friendly plants to maximize greenery and growth in our desert landscape. Access to healthy foods and neighbors coming together to work on a project are both key elements to sustainability. Primavera partners with community members and other agencies to help establish a network of community gardens, which have many benefits which include:
preserving green spaces;
increasing knowledge of gardening and healthy eating;
increasing access to organic, healthy foods;
increasing exercise;
strengthening intergenerational and cross-culture connections between neighbors;
growing community;
and overall increasing quality of life.
Throughout the year, Primavera staff and residents received some green education, tips, and challenges to help integrate more green behaviors in their daily lives and the organization. Community gardens can also be vital economic development tools if coupled with a community farmer's market.
To learn how to get involved with our community gardens, email our Volunteer Coordinator or call (520) 308-1890.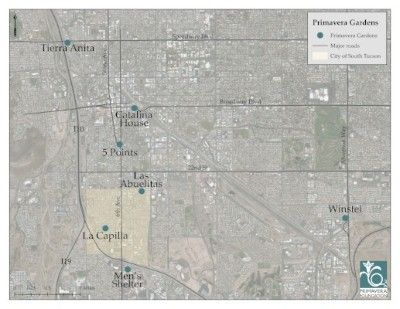 PRIMAVERA'S SEVEN COMMUNITY GARDENS
1) Las Abuelitas
2) La Capilla
3) Catalina House
4) Five Points
5) Men's Shelter
6) Tierra Anita
7) Winstel Terrace
One of Many Primavera Community Gardens: Tierra Anita's History
In 2008, Barrio Anita neighbors and volunteers joined together to install a greywater harvesting system at the laundry facility of a Primavera drop-in and housing program in the neighborhood. Through the project, they discovered a common interest in revitalizing a community garden.  Primavera staff and community members of Barrio Anita began meeting in January 2009 to explore restoring the garden adjacent to this program. In honor of the neighborhood's historical roots, the garden was named Tierra Anita which means "Anita Earth."  With goals of growing organic food and other plants, enjoying community, and providing inter-generational mentoring and educational opportunities, the partnership between Primavera and the neighbors of Barrio Anita has been strengthened.
Learn more about our Tierra Anita Community Garden in a past Primavera newsletter article.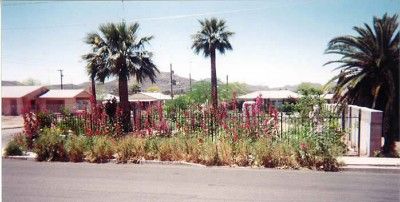 Historical Tierra Anita Community Garden