Primavera's Project Action for Veterans program provides housing support services and temporary financial assistance to veterans and their families that are facing eviction or homelessness. Services are aimed at addressing barriers that threaten the veteran and/or their family's housing stability. The program acts as a resource liaison connecting veterans to public and community resources that are vital to a better quality of life.
Support services include but are not limited to connecting veterans with the following resources:
VA benefits
job training assistance
healthcare services
daily living services
personal financial planning services
income support services (TANF, disability benefits, etc.)
fiduciary and representative payee services
legal services
childcare services
Temporary financial assistance is provided for the following:
rent and utilities deposits
transportation
moving
---
CARF Accreditation

The Primavera Foundation is committed to delivering high-quality services to all persons served. We are equally committed to maintaining a high level of quality standards for business practice. We are proud to demonstrate this commitment by achieving a three-year Commission on Accreditation of Rehabilitation Facilities (CARF) accreditation for the Project Action for Veterans program as of April 2018.

What does this mean?
Persons served and their families look for organizations that are accredited as a sign of quality when looking for services.
 
Accreditation is evidence to persons served that an organization has demonstrated its commitment to encouraging feedback, continuously improving services, enhancing performance, and managing risk. 
 
Persons served and their families can be confident that services will be focused on their unique needs. 
When a service or program is CARF accredited, it means it has undergone an in-depth review of its services and demonstrated substantial conformance to the CARF standards during the on-site survey. The service or program has demonstrated its commitment to delivering quality services that focus on your needs and preferences. CARF International is an independent, nonprofit accreditor of health and human services.
---
Receive Veteran Support Services
On your first visit with a resource specialist, you will be asked to provide us with some documentation:
valid ID/driver's license
DD214 or discharge status confirmed by Southern Arizona Veterans Administration and a HINQ printout
Social Security card
birth certificate(s) and school ID(s) for children
lease agreement
eviction notice
landlord contact information
copies of all of your utility bills
paystub or other proof of income for the last 30 days
Please do not immediately rule yourself out if you are missing any of these documents. Just let the staff member know at the time of phone interview, and they will provide you with advice on how to possibly obtain the missing documentation.
Eligibility Criteria
must have served at least one-day active duty in the Military, naval, air service, National Guard, or Merchant Marines
must have a discharge or release status in any category other than Dishonorable
must be homeless, in foreclosure, or facing eviction
can be leaving transitional housing or a shelter, fleeing domestic violence, or recently discharged from a hospital or jail
household income must be at or below the amount listed for your household size at the time of your intake appointment
| 2020 HUD INCOME LIMIT BY FAMILY SIZE | 1 Person | 2 People | 3 People | 4 People | 5 People | 6 people | 7 people | 8 people |
| --- | --- | --- | --- | --- | --- | --- | --- | --- |
| (as of May 4, 2020) | $23,950 | $27,400 | $30,800 | $34,200 | $36,950 | $39,700 | $42,450 | $45,150 |
To receive veteran support services, call us for an initial phone interview. You will speak with Project Action for Veterans staff who will do a preliminary assessment of eligibility. If you are eligible, you will attend an intake appointment. To meet with a resource specialist, simply stop by. Or, feel free to call anytime: 8:00a–5:00p.
Project Action for Veterans
(520) 308-3093
3504 S. 6th Ave., Ste. 150
Tucson, AZ  85701

Monday, Tuesday, Thursday, and Friday: 8:00 am – 12:00 pm / 1:00 pm - 3:00 pm
Closed Wednesdays, Saturdays, & Sundays.
---
Meet Alfonso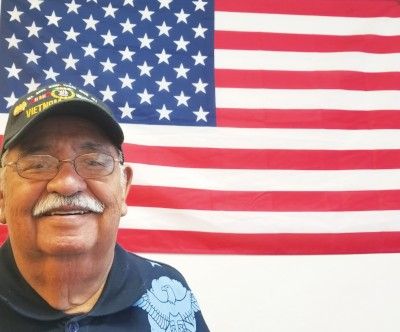 Alfonso Escalante L. served four years in the Air Force and 16 years in the Air National Guard.
He lost his wife to cancer, was laid off from work after 20 years, lost his home, and he became injured.
He was relieved when Primavera's Project Action for Veterans program helped him secure housing and connected him to the U.S. Department of Veterans Affairs for the grief counseling and health care that he needed.
"Project Action for Veterans helped me so much that I want to show others how they could get help, too."
---