CASA PALOMA WOMEN'S PROGRAM
Your pathway out of poverty starts here. Your first stepping-stone is connecting to emergency services at the Primavera Foundation. You may begin to regain your dignity through staff and volunteer compassion and finding immediate relief and shelter as you recover from economic crisis while acquiring information and connecting with additional support services to live independently and offset future crises. 
If you are a woman with children and need immediate shelter, please contact the Gospel Rescue Mission Women and Children's Shelter: (520) 740-1501 x7101 located at 707 W. Miracle Mile, Tucson, AZ.
---
Stop by the Women's Hospitality Center
This safe space is for women only who are experiencing homelessness, and you may receive:
laundry
meals
showers
hygiene supplies
clothing
resources
respite
Call for directions and more information:
Casa Paloma Women's Hospitality Center
(520) 882-0820
Undisclosed location near the intersection of Speedway Blvd. & Main Ave.
Tucson, AZ

Monday - Saturday, 8:00 am – 12:00 pm
Closed Sundays. No appointment necessary.
---
Stay at the Women's Residence
Casa Paloma provides residential services in a women-only setting, offering short-term residential shelter services for women in crisis and medium-term transitional housing services for women who are working toward their goals for self-sufficiency. Casa Paloma is located at an undisclosed location near the intersection of Speedway Blvd. and Main Ave. in Tucson, AZ.
If you are looking for more long-term housing, learn more about our Affordable Rental Housing program.
For eligibility and information on openings at Casa Paloma, visit or call for an appointment:
Homeless Intervention & Prevention Drop-In Center
(520) 623-5111
702 S. 6th Ave.
Tucson, AZ  85701

Monday, Wednesday - Friday, 9:00 am – 12:30 pm
Closed Tuesdays, Saturdays, & Sundays. No appointment necessary.
---
Meet Glenda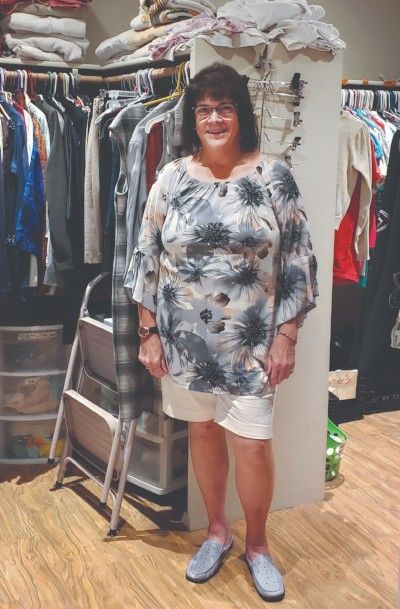 She never thought she'd ever be homeless, feeling so "worthless and useless."
After rehabilitation from temporary paralysis, an ex-husband's abandonment that left her alone fighting for her Canadian work visa, and sleeping in her car, she found hope at Casa Paloma Women's Hospitality Center and Residence.
Now, she's living in stable rental housing and patiently waiting for her temporary residency visa so she can again work as a certified legal nurse consultant.
---
Main Photo Credit: Special thanks to Tucson Electric Power who took this photo for us as a finalist in the 2017 TEP Powerful Choice Challenge to celebrate their 125th anniversary with gifted grants to the community.
Exceptional Acknowledgements:  The Bonny Kay Fund, the Arizona Attorney General's Office, and so many more donors, funders, community partners, and staff who helped renovate Casa Paloma--not only to complete the project--but to help the women regain some dignity and respect in a safe haven.