CIVIL RIGHTS RESTORATION
We partner with the community to offer free and public workshops several times a year that can help individuals with Arizona and federal convictions to restore their Civil Rights and set aside their convictions, intended for those who have already completed their sentences. The workshops are hosted by the Pima County Clerk of the Superior Court, Pima County Public Defense Services, Pima County Justice Court, the Civil Rights Restoration Clinic of the James E. Rogers College of Law at the University of Arizona, and Second Chance.
---
Restore Your Rights
Do you have trouble finding a job or apartment? Setting aside or vacating your convictions does not clear your record, but it can improve your chances when you are able to show the potential interviewer or employer that you have completed all the terms of your sentence and had a judge officially set it aside. A past conviction doesn't bar you from participating in your community. You can restore your rights to vote, to sit on a jury, to run for political office and in some cases, you can get your convictions vacated or reclassified.
Restore your civil rights and restore your voice in our democratic process. As a voting constituent, you will not only have the power to make important choices about your future each and every Election Day, but you will also have more influence over those representing us at the local, state, and federal levels. 
Call (520) 308-3124 or email civilrights@primavera.org to find out about how you can go about restoring your rights.
Visit our Events Calendar for details about our upcoming free Civil Rights Restoration Workshops.
Eligibility
You are eligible to restore your rights in Arizona if you meet the following criteria:
You have Arizona or Federal Convictions.*
You have waited at least two (2) years after being released from prison.
You have fulfilled the conditions of your probation or sentence, including any period of parole/community supervision. (This waiting period applies only to civil rights restoration; applying to vacate a conviction has no additional waiting period.)
You have proof showing you have tried to pay fines and restitution.
*If your convictions are from out-of-state, please contact the Superior Court in the county of your conviction to find out how the rights restoration process works in that state.
---
Weekly Public Defense Legal Clinics
As of August 2018, the Office of the Pima County Public Defender hosts public defense legal clinics for those with Arizona convictions every Wednesday.
These clinics provide services and/or information about:
civil rights restoration
misdemeanor designation of felony convictions
quashing warrants
referrals to lower courts
community services
constitutional rights
No appointments will be taken, the service is on a first-come, first-serve basis. Call them to reach their dedicated, pre-recorded information line to help answer some of your questions.
Office of the Pima County Public Defender
(520) 724-2285
33 N. Stone Ave., 21st Floor
Tucson, AZ  85701

Wednesdays, 9:00am-12:00pm & 1:00-4:00pm

---
Meet Thomas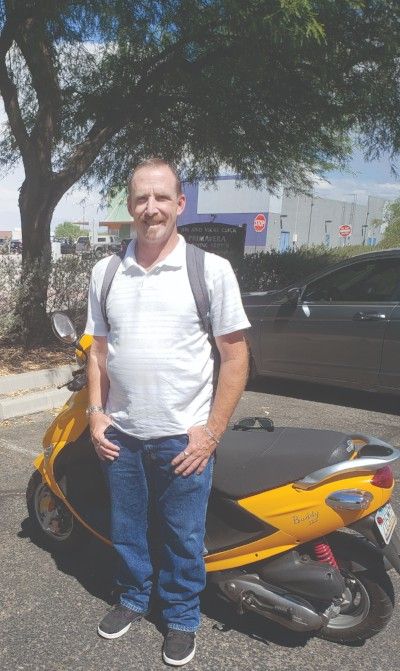 Suffering from multiple behavioral health challenges his entire adult life, he lost his marriage, home, and plumbing business.
Being un-medicated left him wandering aimlessly about, resulting in a police incident that landed him in jail for a year.
His release left him homeless again before he found Primavera as a support system.
Now, he resides at Catalina House, enjoys weekly art classes, and is in the process of getting his civil rights completely restored.
"I'm grateful to show others I can be productive again," he said.