PROVIDING PATHWAYS OUT OF POVERTY
Isolation. Distress. Confusion. Embarrassment. We recognize and understand the stress and anxiety that poverty, homelessness, and/or fear of homelessness can cause you and your family. We are here to listen, counsel and assist you when you are in crisis, provide the relevant support, guidance and resources to help you develop a viable plan for the future, and offer you the opportunity to develop your skills and assets, set realistic goals, and work toward achieving long-term financial stability. 
For many men, women, and families who are homeless, the first step to getting off the streets is connecting with us. In the 2018-2019 fiscal year alone, Primavera provided tangible pathways out of poverty that impacted over 6,800 people living in Southern Arizona — people who wanted to improve their lives. Through partnerships with volunteers, neighborhoods, and a wide variety of community-based organizations, businesses, and the public sector; we offer four vital areas of support that break the cycles of poverty and homelessness through 1) SURVIVAL, 2) STABILITY, 3) SECURITY, and 4) SUSTAINABILITY.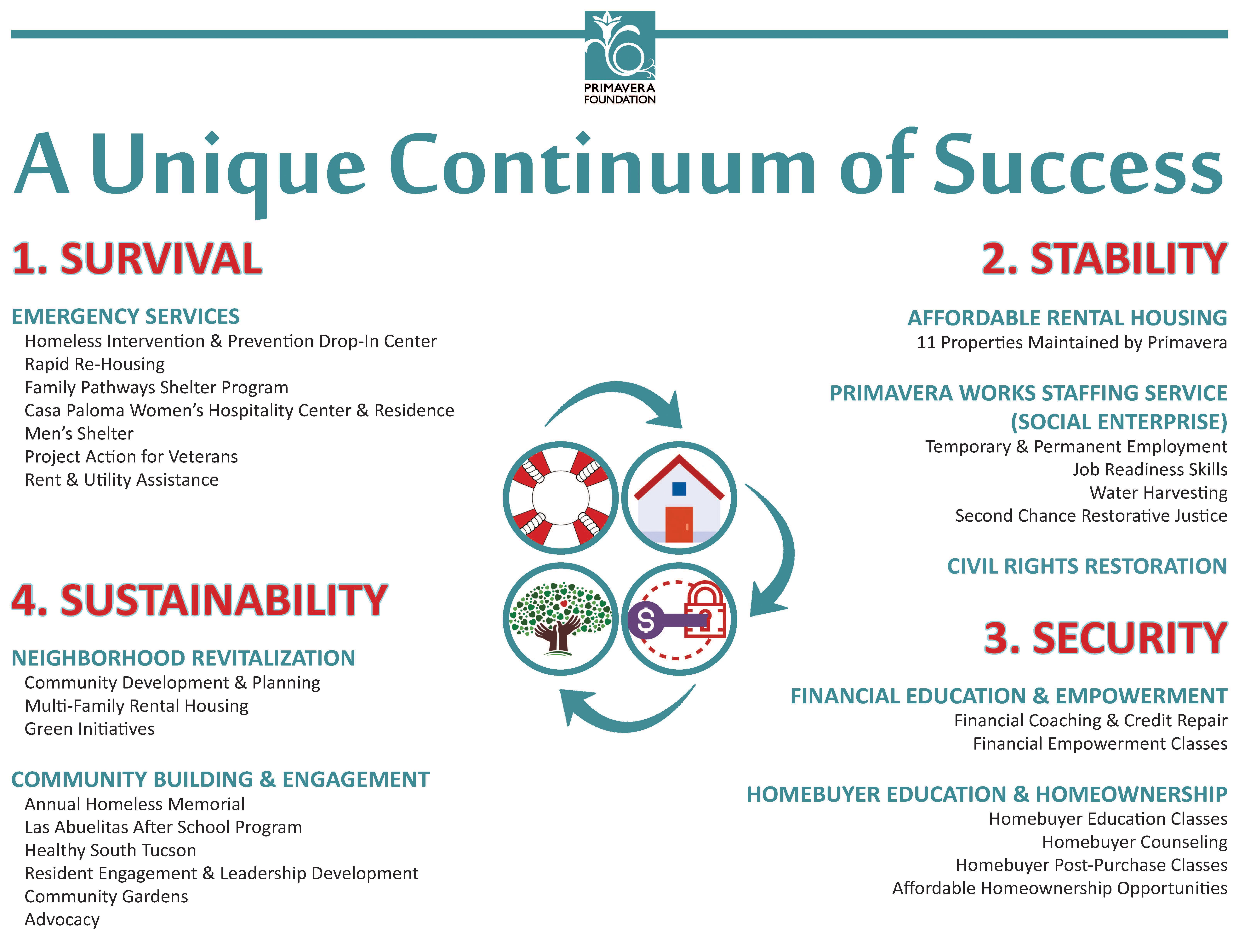 ---
SURVIVAL
Individuals and families may find immediate relief and shelter as they recover from economic crisis through our emergency services. These programs often serve as the first stepping-stone out of poverty, assisting people as they recover from economic crisis to acquire the information and skills needed to live independently and offset future crises.
---
STABILITY
People who may experience homelessness and/or poverty may transition to a stable lifestyle with affordable housing and steady employment opportunities, and civil rights restoration if needed.
(3) 34th St. Properties
Alamo Apartments
Las Casitas Apartments
Catalina House
Five Points
TBD (Formerly Greyhound)
Winstel Terrace Apartments
Women in Transition
Temporary & Permanent Employment
Job Readiness Skills
Water Harvesting
Second Chance Restorative Justice
Drug Treatment Alternative to Prison (DTAP)
---
SECURITY
Financial education, asset-building services including incentive-based savings plans, and homeownership opportunities are available for participants seeking long-term financial empowerment.
Financial Coaching & Credit Repair
Financial Empowerment Classes

for Mothers & Daughters, "Her Family"
for Grandparents Raising Grandchildren, "Mis Abuelitos"
Homebuyer Education Classes
Homebuyer Counseling
Homebuyer Post-Purchase Classes, "Happy Nest"
Affordable Homeownership Opportunities
---
SUSTAINABILITY
Committed to social and economic justice, we strengthen resident leadership and integrate community building and engagement activities with multiple community partners in targeted areas to revitalize neighborhoods.
Community Development & Planning
Multi-Family Rental Housing
Green Initiatives
Healthy South Tucson
Resident Engagement & Leadership Development
Advocacy