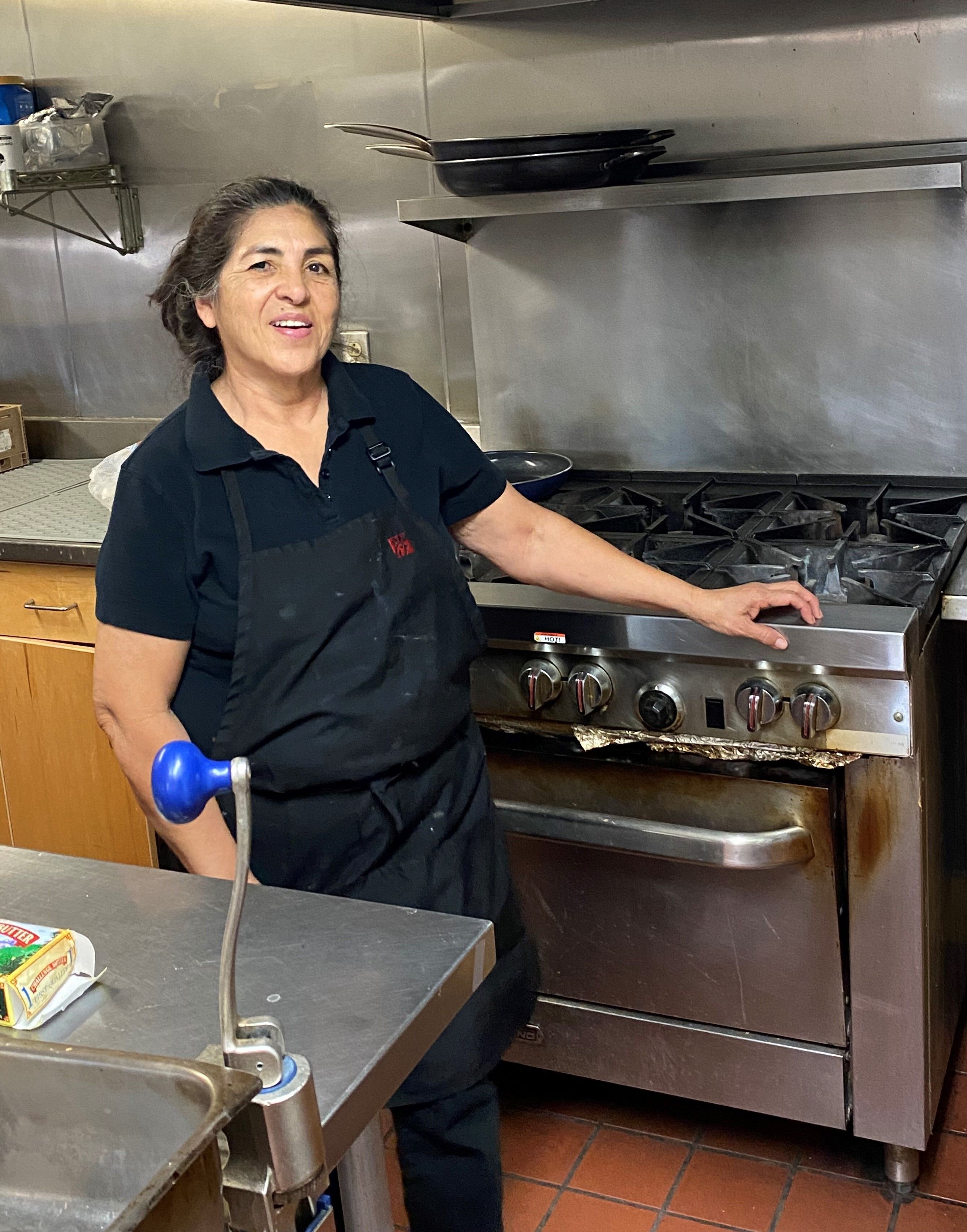 As the kitchen coordinator at Primavera Foundation's Men's Shelter, Refugio Martinez lives up to her name.
Refugio – which means "shelter" in Spanish – strives to provide the men with more than just nutritious, flavorful food.
"When I cook for them, I put all of my respect and love into it," Refugio said. "We are family. They need respect, whatever issues might have brought them here."
At Primavera, she plans and prepares breakfast for over 65 participants most days, a bit fewer for lunch, and then works with Primavera volunteer meal teams to organize dinner for the men.
Her work aligns with her intense desire to give comfort to people who could use a helping hand. It's in stark contrast to her own independent streak. "I don't ask for help," Refugio said. "Because my mom always said, 'You can do things for yourself.' I love to help people, but I don't like people to help me."
Refugio grew up in the Mexican state of Sinaloa, then moved to Los Angeles, where she married and had four sons. In the late 1990s, she moved to Yuma to give her kids better schools and safer streets.
There, around the age of 36 or 37, she started her first formal education, which would launch her into the nutrition field. She recalls telling an official at Arizona Western College in Yuma that she wanted to study child development and nutrition. He asked if she had a high school or GED diploma.
"No," Refugio said. "I never had the opportunity to go to school."
He asked what grade she made it to. She repeated that she was not able to attend school – at all – while growing up in Mexico. "I am self-taught," she said.
The official seemed skeptical but handed her an assessment test to see if she qualified for college classes. "Good luck," he said.
A couple of days later, Refugio got the news she wanted and even expected: She had passed the assessment and could begin college. "I told him, 'It's not about luck.' I pay attention. I believe in me and in my sons."
Refugio ultimately focused her studies on nutrition and spent 14 years working with Chicanos Por La Causa in Yuma.
She came to Tucson in 2013, when one of her sons was stationed in the military here. She has worked at Community Bridges Inc. (CBI), which helps people who have addiction issues, and at America's Rehab, where she still holds a part-time job. She joined Primavera in the past year.
Everyone needs and deserves support, Refugio said. She said her work at Primavera reminds her of one of her brothers, who experienced homelessness, and of the emotional struggles some veterans have when they come back from Iraq or Afghanistan.
"I like that we are bringing people here, so they don't have to sleep in the street," Refugio said. "They get a good meal, a bed to sleep in. You see their eyes when they have a full plate, a hot plate. They say thank you with their eyes."
Refugio said she, too, is thankful. "I am grateful to Primavera for the opportunity to help serve the homeless community through our program."
PHOTO CAPTION: Refugio Martinez holds court in the kitchen at Primavera Foundation's Men's Shelter.