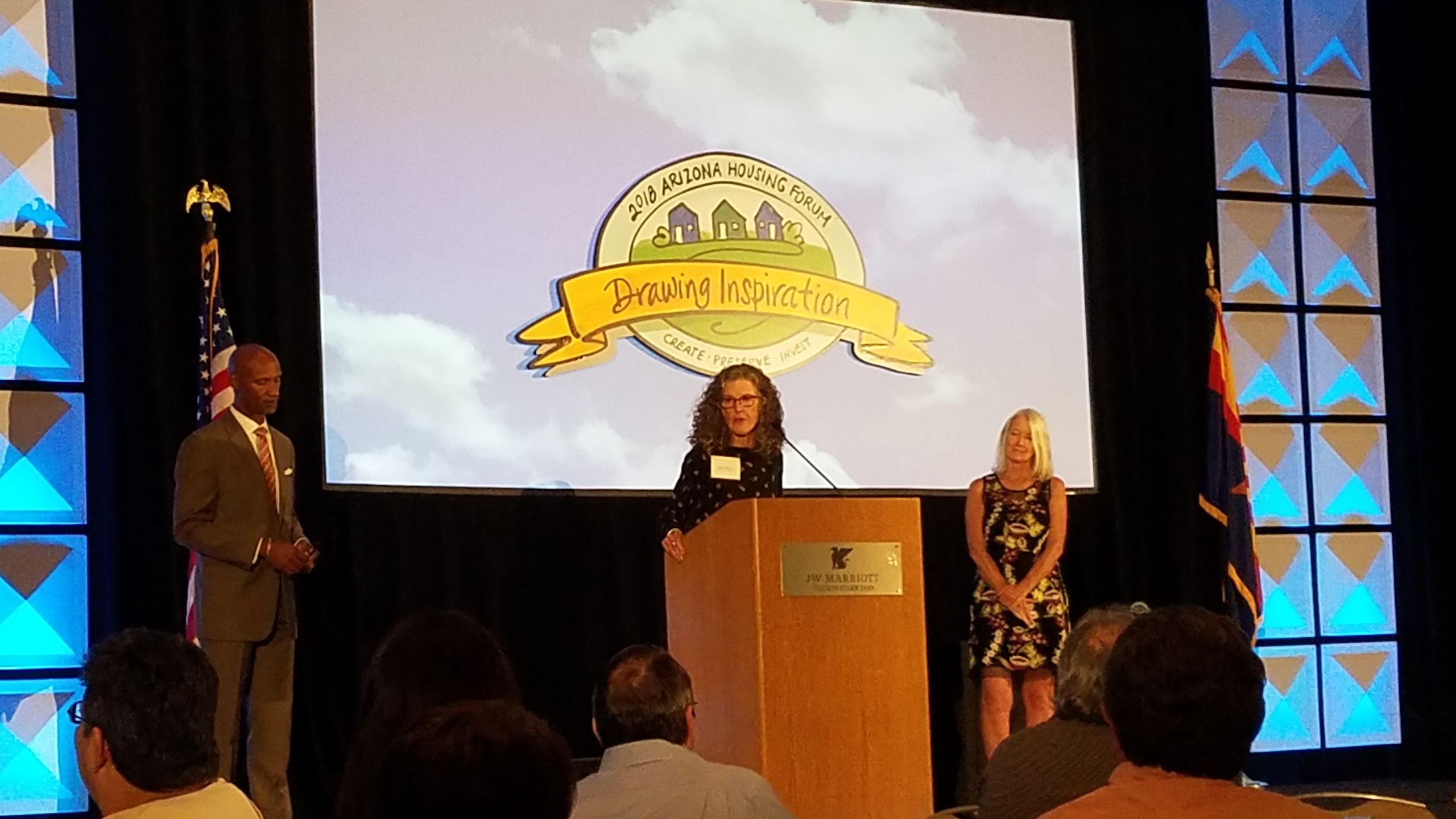 The Primavera Foundation's CEO, Peggy Hutchison, was honored to receive the Brian Mickelsen Housing Hero Award as an Arthur Crozier Partner in Housing from the Arizona Department of Housing at their fifteenth annual forum held in Tucson, Arizona last week.
This award is given to one person in the State of Arizona to "celebrate the single action or a lifetime of successes of an individual committed to improving the lives of families and the health of communities through the recognition that decent, affordable housing is basic to our social fabric."
In nominating Peggy for this award, Primavera stated:
"Primavera celebrates fourteen years of visionary leadership that Peggy has provided to the community and this organization. Throughout her career, Peggy has long been recognized in the Tucson community, in the state of Arizona, nationally, and internationally as a tireless leader, a passionate advocate, and a lifelong contributor in the pursuit of social and economic justice, the fight to eliminate homelessness and poverty, the ability to assure the availability of safe, affordable housing, and the need to build strong, healthy, engaging, inclusive communities."
Primavera also identified Hutchison's achievements, particularly in housing and community development work:
"Primavera's success is based on Peggy's leadership. She is one of the "go-to" people in Southern Arizona when there are poverty-related issues to address. She is highly respected by the employees of Primavera, by the Board of Directors, and by donors. She can bring about community improvements that change lives and promote healthy communities. Peggy has pursued and led Primavera in numerous projects with significant community impact including:
The Neighborhood Stabilization Program in South Tucson, rehabbing or replacing distressed housing at 41 sites throughout the 1.2 square mile City of South Tucson, increasing the availability of safe, affordable housing for long-time residents and new owners and renters, and investing in the health and livability of the community.
Development of Las Abuelitas in 2013, an affordable housing community in South Tucson designed for kinship families with a community center and gardens at its core.  Primavera and the architectural firm of Poster, Frost, Mirto in Tucson have received numerous awards for this LEED Platinum, highly energy efficient affordable housing project, including the Bright EE award from Tucson Electric Power Company, Arizona Partnership for Healthy Communities recognition, Exemplary Urban Multifamily Project from ADOH, Arizona Chapter US Green Building Heavy Medals Award, and a national award from the National Association for County Community and Economic Development.  Cooper Hewitt, Smithsonian Design Museum featured Las Abuelitas in the exhibition "By the People," a series of socially responsible design.
As a result of Peggy's vision and oversight of Primavera's seven multifamily housing properties, Primavera's Asset Management Department has created and integrated property management best practices into the portfolio and repositioned the properties to provide more stable and affordable housing in the community, including the integration of solar energy and other energy efficient practices at the properties and availability of resident services.  Currently Primavera is in the process of upgrading another of its properties to provide an additional 18 units of affordable rental housing in South Tucson.
Primavera has consistently received an Exemplary rating, the highest organizational rating possible from NeighborWorks America®, and was designated a NeighborWorks Green Organization in October 2013.
Primavera's comprehensive HUD-certified homeownership and financial education and capability services are available to low-income individuals and families throughout the community, resulting in 657 new first-time homeowners since 2012.  This includes 252 homes purchased by new homebuyers through Neighborhood LIFT in the fiscal year 2014-2015.
With funding from Project Reinvest, Primavera is currently building four new homes for first-time homeowners in the City of South Tucson, expanding South Tucson's public art and community engagement activities, completing a comprehensive community plan for South Tucson, and working together with the community in the development of a new park adjacent to the El Paso and Southwestern Greenway.
Integration of water harvesting practices and community gardens at Primavera properties and developments, and the establishment of a water harvesting technician and crew, now a registered contractor in the State of Arizona, available to community customers through Primavera Works."
At the awards ceremony, Hutchison reminded her senior leadership and Board members sitting out in the audience that her work is a partnership—with Primavera staff, Board, donors, volunteers, other community leaders, and organizations, but especially with the people Primavera serves in the community who both inspire and hold Primavera accountable for this work.