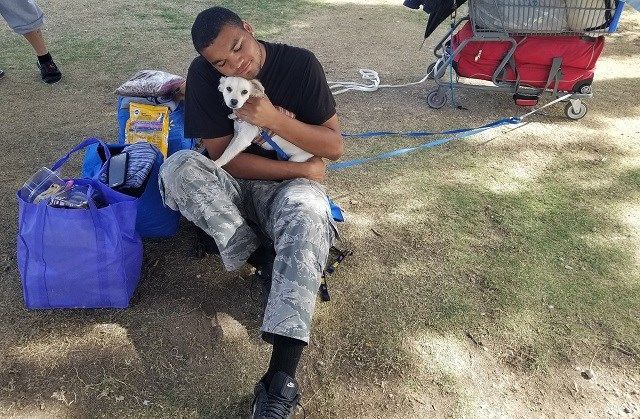 The warmest half of the year in Pima County can be particularly hard on people and pets facing homelessness, who don't have a place to cool down. PACC is partnering with Friends of PACC, the Primavera Foundation to provide 'Go Kits' for homeless people and their pets. 

"Primavera provides these kits with food and basic necessities for people at their drop-in center. Until now, they've not had a way to help the pets owned by people experiencing homelessness who come to their drop-in center," PACC Director of Animal Services Kristen Auerbach said. "The staff let us know they needed food, collapsible bowls, leashes, collars, paw booties and other basic supplies to hand out to pet owners." 

Earlier this summer, the Friends of PACC did a donation drive to purchase paw booties to protect the paws of pets living with their owners on the streets. Thanks to this successful drive, PACC was able to give out more than 300 sets of booties, reducing the number of pets who suffer from heat-related sores and injuries to their paws. 

Now the Friends of PACC is seeking monetary donations as well as donations of food, collapsible bowls, leashes, collars, flea and tick treatment, dog booties and treats to contribute to this program. Supplies will be packaged in easy-to-transport bags and be distributed at Primavera Foundation's downtown Homeless Intervention and Prevention Center and throughout the community. 

"People facing homelessness in our community love their pets just as much as anyone else and they will often feed their pet before they feed themselves," Auerbach said. "This program means they will no longer have to make that choice. With this partnership, they'll be able to more easily get supplies for their pet." 

Since 1983, the Primavera Foundation has provided "real pathways out of poverty through safe, affordable housing, workforce development, and neighborhood revitalization."

"We are excited and grateful for this partnership with PACC!" Primavera Chief Executive Officer Peggy Hutchison said. "Pet companions provide healing, love, and emotional support for community members experiencing the isolation, marginalization, and violence of homelessness. The 'Go Kits' really matter to our friends who are working hard to secure a safe place to call home."

If you would like to learn more, send supplies, or make a monetary donation, please visit the "Pup in Boots" Project on the Friends of PACC website. To donate supplies, drop them off at PACC 24/7. 
Photo courtesy of Pima Animal Care Center