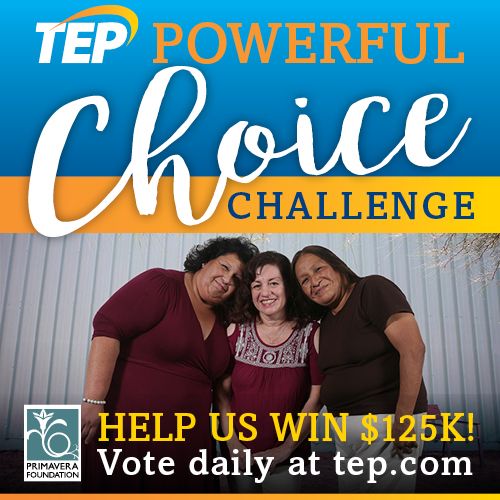 Primavera is one of five local nonprofits selected to participate in Tucson Electric Power's (TEP) "Powerful Choice Challenge," Oct. 16-25, for the chance to win the $125,000 top contribution from the company.
With a long history of giving back to the community, TEP is holding the friendly competition as part of its 125th-anniversary celebration.
During the 10-day challenge, the nonprofit with the most online votes will receive the top contribution. TEP also will make contributions ranging from $20,000 to $5,000 to the runner-ups.
To vote, persons must be 18 years or older and live or work in TEP's service area. People may vote once per day by visiting TEP, clicking on the challenge promotion and then clicking on their preferred nonprofit.
"We are honored and excited to have been selected by TEP to participate in the 'Powerful Choice Challenge,'" said CEO Peggy Hutchison. "We strongly encourage our supporters, volunteers, donors and benefactors and their family and friends to vote for us daily so that Primavera can win first place in the challenge. We are confident in the strength of our proposed program and its ability to help improve the community."
Funds from TEP will be used to support the Casa Paloma Women's Program. Homeless women, often fleeing abuse, have few options. Shelters are typically full, and the women face other challenges that may impeded their ability to access mainstream services such as physical and mental health challenges, substance abuse or chronic homelessness. Casa Paloma gives homeless, single women refuge, comfort and support. The women-only center helps participants stabilize their lives by helping them to secure employment and housing. The center offers weekly life skills sessions such as financial empowerment, conflict resolution and domestic violence awareness. Casa Paloma provides shower and laundry facilities, meals, blankets, hygiene items and clothing to 235 women annually. Funds from TEP would help renovate the 62-year-old facility with numerous health, safety and energy efficiency improvements.
Besides Primavera, the other four nonprofits competing in the challenge include the Community Food Bank of Southern Arizona, Habitat for Humanity Tucson, Junior Achievement, and Tucson Values Teachers.
The "Powerful Choice Challenge" represents just part of TEP's ongoing philanthropic investment in Southern Arizona. Including these awards, TEP will contribute more than $1.5 million this year alone to local charities that are funded from corporate resources, not customers' rates. The company also contributes significant in-kind support, and employees volunteer thousands of hours each year to causes across our community.