A Holiday Benefit Choral Concert (In Memory of Gordon Packard)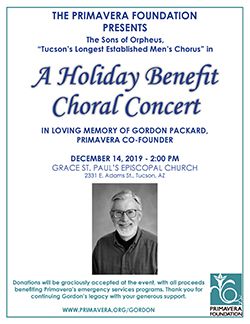 The Primavera Foundation presents the Sons of Orpheus, "Tucson's Longest Established Men's Chorus."
With deep gratitude, we honor and celebrate Gordon Packard, Primavera's co-founder, who passed away on September 22, 2018. He was an amazing, visionary leader who dedicated his life to bettering the lives of others. Those of us who knew or worked alongside him consider it an honor and a privilege to continue to carry out his legacy throughout our community.
Donations will be graciously accepted at the event, with all proceeds benefiting Primavera's emergency services programs:
• Homeless Intervention & Prevention Drop-In Center
• Rapid Re-Housing
• Family Pathways Shelter Program
• Casa Paloma Women's Hospitality Center & Residence
• Men's Shelter
• Rent & Utility Assistance
Thank you for continuing Gordon's legacy with your generous support of the Primavera Foundation.