PRIMAVERA FOUNDATION HONORS BLACK HISTORY MONTH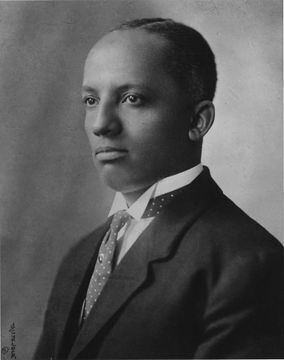 In 1926, historian and journalist Carter G. Woodson founded Negro History Week, which grew into what we now know as Black History Month, recognized annually in February. Woodson, the son of former enslaved people, famously said, "If a race has no history, if it has no worthwhile tradition, it becomes a negligible factor in the thought of the world, and it stands in danger of being exterminated."
Black History Month adopts a different theme each year, with this year's being "Black Resistance."  The Association for the Study of African American Life and History (ASALH), which Woodson founded in 1915 and today is the official promoter of Black History Month, notes that the theme encompasses the African-American experience from its outset.
"African Americans have resisted historic and ongoing oppression, in all forms, especially the racial terrorism of lynching, racial pogroms, and police killings since our arrival upon these shores," the association said. "These efforts have been to advocate for a dignified self-determined life in a just democratic society in the United States and beyond the United States political jurisdiction."
Black History Month is a time to honor the contributions of African Americans and recognize the sacrifices and struggles that continue to this day. It is an opportunity to reflect, learn, understand and celebrate. It is an opportunity to honor the histories and the struggles of the African and Black Diaspora. It is a time to center and uplift Blackness and the Black community. This is a journey that cannot be contained within one month. We must challenge ourselves to aspire to be allies and engage in transformative work, every single day.
In February, we honor Black history by:
Educating ourselves about the struggles, resistance, triumphs, contributions and resilience of African Americans
Celebrating Black arts and culture
Challenging anti-Blackness and systemic injustice
Supporting Black-owned businesses                                       
Here is a sampling of events, businesses and resources, compiled from local websites and sources, to celebrate Black History Month in the Tucson area:
Local Black History Month events
●       Black History Month Kick-Off Open House
         ○  2 p.m., Tuesday, Feb. 7, at the University of Arizona North Ballroom, Student Union Memorial Center
Meet the Department of Africana Studies at this open house with free food, entertainment, prizes and more!
●       University of Arizona Faculty Guest DJs on KXCI
          ○  At 5 p.m. every Friday in February, live on KXCI Community Radio, 91.3 FM or http://kxci.org/
 Annual partnership with KXCI Community Radio, professors from Africana Studies will be featured as guest DJs on the Home Stretch every February. Professors will select a topic to discuss and play related songs, illuminating subjects related to music, culture, history and their own research.
●       Social Art-ivism: Black Panther Culture, From Oakland to the World
          ○  6:30 p.m., Tuesday, Feb. 28, at the UA Poetry Center, Rubel Room, 1508 E. Helen St.
"Yesterday's histories unravel today's mysteries." With those words as her motto, Pamela Mays McDonald explores Black culture through language, music, visual and performing arts, literature, poetry, fashion, ritual and spiritual expression.
●       Harambee Festival
        ○  11 a.m., Saturday, Feb. 25 at the Dunbar Pavilion, 325 W. 2nd St.
Live music, food, entertainment (read-in, films, smash room experience)
●        Eric Harris and Grant Sing perform Motown & R&B celebrating Black History Month
         ○  7 p.m., Saturday, Feb. 25, at the Dunbar Pavilion, 325 W. 2nd St.
 Purchase tickets at https://www.tickettailor.com/events/triplerrrproduction/792054
●       Black History Month Talk with Dr. Rebecca Hall, JD, PhD
         ○ 2:30 p.m., Saturday, February 11, via Webinar on ZOOM
Dr. Hall will discuss her groundbreaking book, "Wake: The Hidden History of Women-Led Slave Revolts"
 Registration required. https://tinyurl.com/363ubvwz 
●       Black and Brown Health Fair, presented by Alpha Phi Fraternity and the Pima County Health Department
         ○  10 a.m.-4 p.m., Feb. 18, at the Donna R. Liggins Community Recreation Center, 2160 N. 6th Ave.
This event aims to provide health services, increase awareness and provide education about chronic health conditions, prevention, healthy living, oral health, maternal health and general health and wellness —focusing on Black and Brown communities.
  Lunch will be provided along with food preservation classes, access to produce and more.
Local Black-owned businesses
Lilith and Daughter: handmade jewelry- https://www.lilithanddaughters.com/
Light of Mine Candle Supply: artisanal, luxury candles sourced from vegan, sustainable and organic coconut wax- https://www.lomcandles.com/
Pies the Limit: traditional and vegan baked goods. Hand pies with sweet on one side and savory on the other- https://www.piesdalimit.com/
Advocatus Counseling, LLC: Ben Ayantola, founder, is a licensed professional counselor who provides psychotherapy to children (6-10), adolescents, and adults- https://www.advocatuscounseling.com/about-advocatus-counseling
Alafia: Delicious and authentic West African cuisine (1070 N. Swan Road, Tucson)
 Alanna Airitam: Questioning generalized stereotypes and the lack of fair representation of Black people in art spaces has led photographer Alanna Airitam to research critical historical omissions and how those contrived narratives represent and influence succeeding generations. Her work can be found at https://www.alannaairitam.com/index
Axé Capoeira Tucson at Studio Axé is a premier capoeira, martial arts, music and dance organization- https://tucsoncapoeira.com/
 BarbiesLove4Lashes: prides itself in selling only the best mink and magnetic eyelashes that are 100% cruelty free, nontoxic and reusable up to 35 times- 4500 N Oracle Road, Suite# 269, (520) 276-9475
Church Ink Tattoo Parlor was created to empower women while promoting self-awareness and body love. Founder Marcella Watson is a strong advocate for the right to feel comfortable in your own skin, and in this particular case, what goes on it- https://www.churchinktattoos.com/about.html
Dunbar Kingdom Kutz-Dunbar Barber Academy is a barber shop and barber school providing instructional classes and haircuts, 325 W. 2nd Ave., (520) 624-0131
Source: #BLAXFRIDAY
Black history books to read:
The 1619 Project by Nikole Hannah-Jones
Slavery in the Age of Memory: Engaging the Past by Ana Lucia Araujo
A Black Women's History of the United States by Daina Ramey Berry and Kali N. Gross
Invisible Man by Ralph Ellison
Stamped from the Beginning: The Definitive History of Racist Ideas in America by Ibram X. Kendi
I Know Why the Caged Bird Sings by Maya Angelou
Between the World and Me by Ta-Nehisi Coates
The New Jim Crow by Michelle Alexander
The Autobiography of Malcolm X: As Told to Alex Haley by Malcom X
The Hate U Give by Angie Thomas
Documentaries and films to watch:
Many Rivers to Cross
Summer of Soul
Slavery by Any Other Name
13th
 I am Not Your Negro
High on the Hog: How African-American Cuisine Transformed America
The Death and Life of Marsha P. Johnson
Freedom Riders
 Moonlight
 Descendant
Influential musicians to enjoy:
Nina Simone
 John Coltrane
Sister Rosetta Tharpe
 Kendrick Lamar
Frankie Knuckles
 Big Joe Turner
Charlie Parker
 U-Roy
Muddy Waters
 Louis Armstrong
 Mahalia Jackson
Marvin Gaye
Aretha Franklin
Tupac Shakur
Artists to learn about:
 Jean-Michel Basquiat
 Gordon Parks
Augusta Savage
 William Edmondson
 Horace Pippin
Archibald Motley
 Kehinde Wiley
Titus Kaphar
---