HOST A THIRD-PARTY FUNDRAISER
Are you interested in hosting a community benefit event or a donation drive for Primavera?
Email our Volunteer & Outreach Coordinator or call (520) 308-3110.
Please have the following information ready to discuss:
business/organization/group name
contact name / event affiliation / address / phone / email / website
fundraiser event name
fundraiser date(s) / time(s) / location
fundraiser description & details
donation specifics (i.e., 85% of ticket sales)
expected donation amount
target audience
other beneficiaries
expectations of the Primavera Foundation
Are you seeking funding from individuals, businesses, and/or organizations to finance this event? If so, please indicate the names/types of donor prospects you intend to approach.
Has this event ever take place before? If so, when?
For official Primavera logos to be used in promoting your event and to review our brand standards, be sure to visit our Press Kit.
FACEBOOK FUNDRAISING
You can use Facebook's Fundraising Tools to raise funds and awareness of Primavera on your birthday, or set up a dedicated page to rally around a specific fundraising goal. Because we use their payment platform to process donations on Facebook, supporters pay no fee. So, 100% of the donations go directly to the organization.
Use this link to get started today: https://fb.com/fund/PrimaveraFoundation
EASY TO START - Facebook will help you get started and give you tips to reach your goal.
SHARING IS CARING - Connect friends to your cause and gain supporters across Facebook.
EASY TO GET DONATIONS - People can donate to your fundraiser in just a few clicks without leaving Facebook.
BENEFIT EVENTS
Raise funds for Primavera's programs and services! Whether you are an individual, a business owner, or member of a community group, we'd love to discuss ways you can help support our organization. Hosting a community event is a great way for you (as a host) to raise awareness about Primavera while raising funds. Plus, you are letting the community know that you support the important work that we do. Example benefit events:
a percentage of sales by stores or restaurants / a percentage of ticket sales
run/walk events / golf tournaments / concerts
in lieu of gifts (for weddings, birthdays, funerals, etc.)
DONATION DRIVES
This is an easy and fun way to get a whole group involved. Help collect essential items for Primavera within your workplace, school, place of worship, and/or neighborhood. Example donation drives:
hundreds of labelless, empty pill bottles for our drop-in center participants (we fill about 700 of them on a weekly basis with essential hygiene items like shampoo, conditioner, body wash, lotion, etc.)
food for our drop-in center and shelter participants
backpacks and school supplies for children in our Las Abuelitas Family Housing and Community Center after school program
---
Meet David Wohl & His Friend Dan Mendelson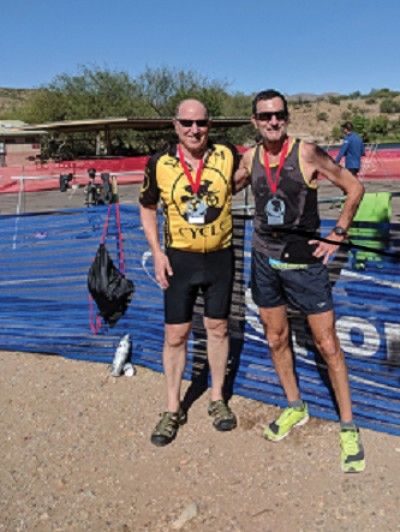 After swimming 1,500 meters, bicycling 1,900 feet, and running 10 kilometers in three hours and 27 minutes, our Primavera Board Treasurer, David Wohl, and his friend Dan Mendelson won second place in their division of the "Tri-ing for Shelter" Patagonia Lake Triatholon fundraiser.
With the help of over 20 of their closest friends, they raised over $3,600 for our Men's Shelter.