VOLUNTEER WITH US
If you want to engage with and give back to your community, you'll find many different ways to do this at Primavera. As a volunteer, you can choose to work in direct contact with our program participants, behind the scenes, on a meal team, in community gardens, or get involved in events and special projects. Whatever your skills and passions are, we'll do our best to find a place for you to contribute in a meaningful way. Through the process of volunteering, you'll have the opportunity to gain a deeper understanding of the issues that cause homelessness and poverty, have a significant impact on the lives of those we serve, make a real difference in our community, and potentially transform your own life in the process. 
The first step to becoming a volunteer with Primavera is contacting our Volunteer Coordinator and setting up a volunteer interview. When you meet with our coordinator you'll have the opportunity to learn more about our organization, fill out an application, and share your interests and availability.
Email our Volunteer Coordinator or call (520) 308-3110.
---
Types of Volunteer Projects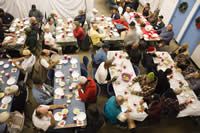 DIRECT CONTACT - Help guests at the Men's Shelter fill out their intake forms on their first visit, pass out hygiene kits and mail to clients at our Homeless Intervention and Prevention Drop-In Center, or facilitate participant workshops for one of our multiple programs like workforce development, financial education, or homeownership.
BEHIND THE SCENES - Assist our staff with data entry, answering phones, filing, copying, etc. Behind-the-scenes tasks are as valuable as direct contact tasks as it allows staff to provide uninterrupted and important services to participants.
MEAL TEAMS - A great small group opportunity! Prepare and serve breakfast, lunch or dinner at our Men's Shelter. You also can create sack lunches for the following groups: participants at the Men's Shelter; the hardworking men and women of our Primavera Works program; and the women of our Casa Paloma Women's Hospitality Center and Residence.   
EVENTS, COMMUNITY GARDENS, &/OR SPECIAL PROJECTS - Help Primavera at their events such as social justice public forums, the annual Homeless Memorial, and more. Get involved with one or more of our seven community gardens. 
---
Open Volunteer Opportunities
CASA PALOMA WOMEN'S HOSPITALITY CENTER & RESIDENCE
Speedway & I-10 area, Tucson, AZ 85705 - Address is undisclosed for the safety of participants.
COMMUNITY BUILDING & ENGAGEMENT
Locations vary, click on the available opportunity for the address.
HOMELESS INTERVENTION & PREVENTION DROP-IN CENTER
702 S. 6th Ave., Tucson, AZ 85701 -
MAP
MEN'S SHELTER
200 E. Benson Hwy., Tucson, AZ 85713 -
MAP
PRIMAVERA WORKS
Training Center / Administrative Offices - 151 W. 40th St., Tucson, AZ 85713 -
MAP
---
Spirit of Philanthropy Award Honorees
The Association of Fundraising Professionals (AFP) Southern Arizona Chapter's Spirit of Philanthropy (SOP) Award is to publicly recognize those who demonstrate extraordinary leadership and vision in support of nonprofits' goals through their contributions of time, effort, and/or resources.
These honorees are formally praised on National Philanthropy Day at AFP's annual fundraiser luncheon to celebrate Tucson's generous spirit through the great contributions of philanthropy--and those people active in the philanthropic community--to the enrichment of our lives, our community, and our world. 
We are so very thankful for these individuals and all of our volunteers who give back to Southern Arizona and who inspire others to become more involved in our community.
---
Meet Beverly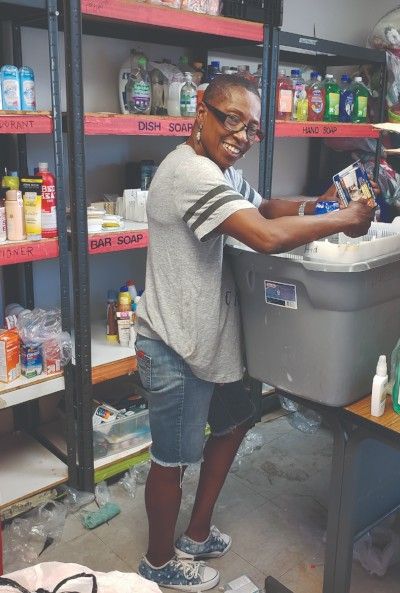 Six years ago, she served five years in prison, then lost six family members in four years, including her own daughter.
Now, with the help from Primavera Works, she works full-time for TUSD, is the guardian of her 16-year-old granddaughter, and supports two additional adult grandchildren.
She volunteers at Primavera and believes in her late mother Lula's philosophy, "Life isn't guaranteed, so get up and do; clean up, go to work, pay your bills, and always help people."