COMMUNITY GARDENS
Access to healthy foods and neighbors coming together to work on a project are both key elements to neighborhood revitalization. To that end, Primavera partners with community members and other agencies to help establish a network of community gardens. Community gardens have many benefits which include: preserving green spaces; growing organic, healthy foods; growing community; intergenerational and cross-culture interaction between neighbors and an increased quality of life. Community gardens can also be vital economic development tools if coupled with a community farmer's market. Currently, this network of gardens includes the City of South Tucson and Barrio Anita.
To learn how to get involved with our community gardens, contact our Volunteer Coordinator at (520) 308-3110 or volunteers@primavera.org.
---
The History of Tierra Anita
In 2008, Barrio Anita neighbors and volunteers joined together to install a greywater harvesting system at the laundry facility of a Primavera drop-in and housing program in the neighborhood. Through the project, they discovered a common interest in revitalizing a community garden.  Primavera staff and community members of Barrio Anita began meeting in January 2009 to explore restoring the garden adjacent to this program. In honor of the neighborhood's historical roots, the garden was named Tierra Anita which means "Anita Earth."  With goals of growing organic food and other plants, enjoying community, and providing inter-generational mentoring and educational opportunities, the partnership between Primavera and the neighbors of Barrio Anita has been strengthened.
Read more about Tierra Anita in a past Primavera newsletter article.
Historical Tierra Anita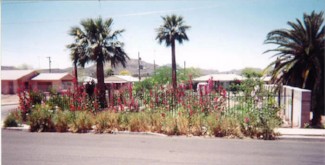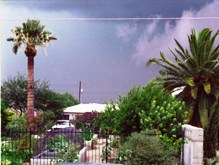 ---
The Newly Cultivated Tierra Anita